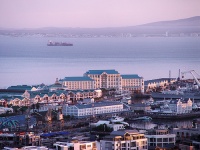 Cape Town's allure lies in its spectacular setting, the beauty of its natural environment, and the rich cultural diversity of its people. The city has had a long and turbulent history, and the effects of colonisation and Apartheid still linger in the minds and hearts of many. Transformation, however, has led to a feeling of hope, which can be experienced in the cosmopolitan city centre of Cape Town.
Flower sellers, business executives, parking attendants, office workers, and shoppers all rub shoulders in a setting of both historical and modern buildings, backed by the city's most famous landmark, Table Mountain. The colourful Malay Quarter, the remains of District Six, St George's Cathedral, Government Avenue, and the old Castle are historically interesting, while world-class African and international restaurants tempt travellers with their culinary delights. Although an African city, Cape Town has a marked European influence and visitors can experience the excitement of Africa from the comforts of upmarket surroundings.
Cape Town's unique setting means that views of the city can be enjoyed from various spectacular vantage points. Table Mountain, Lion's Head, and Signal Hill provide breathtaking vistas over the city bowl and the Cape peninsula, with its beautiful beaches. Trips to Robben Island offer a dramatic sweep of scenery across to Table Bay, while harbour tours and old buildings await exploration at the cosmopolitan Waterfront. Many scenic routes meander along magnificent stretches of coastline leading to special places like Cape Point and Chapman's Peak, which boasts one of the most picturesque stretches of road in the world.
The Basics
Time
GMT +2
Electricity
Electrical current is 230 volts, 50Hz. Round, three-pin plugs and round, two-pin plugs are standard.
Language
South Africa has 11 official languages, including Afrikaans, English, Xhosa, Zulu, and Sotho. English is widely spoken.
Travel Health
Health regulations in South Africa require that travellers from areas infected by yellow fever must carry a vaccination certificate; otherwise no vaccinations are required. There is a malaria risk in the low-lying areas of the Northern Province and Mpumalanga (including the Kruger National Park), as well as northeastern KwaZulu-Natal, and precautions are advised when travelling to these areas, especially between October and May. Vaccinations are recommended for hepatitis A, hepatitis B and typhoid. There is a high prevalence of HIV/AIDS in South Africa. Tap water is generally safe in urban areas but sterilisation is advisable elsewhere, as there are periodic outbreaks of cholera in the poor communities of rural South Africa, particularly in northern KwaZulu-Natal, Mpumalanga, and Limpopo provinces.
Medical facilities in South Africa are good in urban areas, but medical insurance is strongly advised as private hospitals expect cash up front and public hospitals are best avoided. Medication is readily available in urban areas, but those travelling outside of major cities for an extended period should bring a basic supply kit for emergency self-treatment.
Tipping
Tips of at least 10 percent are expected for good service if a service charge is not included in the bill. Tipping for services rendered is widely anticipated by porters, taxi drivers and petrol attendants. Golf caddies should be tipped accordingly. 'Car guards' operate in the city centres and tourist spots and will offer to look after parked car; they are usually immigrants from neighbouring countries looking for work and will expect anything from R8 upwards on the driver's return, depending on how long the driver will have been away.
Safety Information
Safety is an issue and visitors to South Africa should be aware of the country's high crime rate. Violent crime tends to be concentrated in pockets throughout the country and travellers should do some research to find out which areas to avoid. For instance, Berea and Hillbrow in Johannesburg are high-risk areas, and township areas in general are dangerous for foreigners.
There is a risk of petty, opportunistic crime in all urban areas and armed robberies are fairly common in Johannesburg. Travellers should always be aware of these risks and exercise the necessary precautions. Carjackings and smash-and-grab robberies are common in major cities, and doors should be locked when driving and bags and valuables should be kept out of sight. Travellers should not walk alone at night in any area, and should be vigilant when using ATMs. They should not display signs of wealth (e.g. mobile phones, money, expensive jewellery, cameras) on the streets. Credit card fraud is on the increase and travellers should be vigilant and never allow their card out of their sight.
It is worthwhile noting that the South African authorities do give high priority to the protection of tourists. Although crime rates are high in South Africa, popular tourist sites and the main hotel areas tend to be safe and most visits are trouble-free.
Local Customs
South African culture and etiquette in urban areas is very Western. While standards of dress vary, beachwear should generally not to be worn off the beach, and nude sunbathing is only permissible in a few designated areas. Homosexuality is legal and accepted in urban areas without much fuss, but it is frowned on by some conservative South Africans and can be a problem in township areas. Although locals may complain loudly about the country and government, they will take offense if a foreigner is critical. Racism is a sensitive issue; however, interracial relationships are now common and widely accepted. South African racial terminology differs from what is acceptable in North America: the terms 'black' and 'white' are appropriate for those of African and Caucasian descent, respectively. 'Coloured' refers not to black Africans, but those of mixed African and European descent and is not considered an offensive term. South Africans are friendly and hospitable, and will often go out of their way to assist tourists who need help.
Business
Business practices in South Africa are influenced by South Africa's range of ethnicities, languages and even geographical areas, but in general follow common patterns. When doing business in South Africa it is important to be culturally sensitive and as understanding of colleagues' historical context as possible. Most South Africans prefer to do business with contacts they've met before, but they are also warm and open to newcomers. Working to build and maintain business relationships is vitally important in the South African business environment. South Africans are renowned for their friendliness which generally supersedes business formality.
Most large corporations, as well as the banking and financial sector, still adopt relatively formal business practices, whereas other companies and work environments enjoy more relaxed and personable atmospheres. Clear management hierarchies and respect for senior executives and colleagues are of paramount importance. However, business exchanges and decision-making processes often take on an egalitarian aspect. As with most countries, punctuality is highly regarded. However, government officials are notorious for their tardiness when it comes to keeping time. Dress codes tend to be conservative, but not overly formal. Suits are the exception more than the rule, but dressing stylishly will always count in your favour. It is best to dress formally for initial meetings.
South Africans value hard work and respect those who succeed. However, they are mindful of other aspects of life such as healthy living, family and nurturing relationships - all of which add up to a well-balanced life. Generally South Africans are regarded as relaxed and informal with regards to introductions and the handling of business cards. Shaking hands is common for both men and women. The giving of gifts is uncommon and unnecessary. The official language of business in South Africa is English. Business hours tend to start at 8:30am or 9am and the day comes to a close at 5pm, or later in the major urban centres. Working over weekends tends to be quite rare in South Africa.
Communications
The international access code for South Africa is +27. Mobile phone networks are available across the country, and there are roaming agreements with most international mobile operators. Mobile service providers offer very cheap 'pay-as-you-go' SIM cards, which are a good option for visitors staying for some time. Wifi is easily available, especially in the larger cities.
Duty Free
Travellers to South Africa do not have to pay duty on 200 cigarettes, 20 cigars and 250g of tobacco; 2 litres wine and 1 litre spirits; perfume up to 50ml and 250ml eau de toilette; and other goods to the value of R5,000. All other goods brought in from abroad by South African residents must be declared on arrival. These will be subject to import duties. For goods to be re-imported, travellers must complete a DA65 or NEP-form that is issued on departure. Prohibited items include meat and dairy products, all medication except for personal consumption, flick knives, ammunition, explosives and pornography containing minors and bestiality.
Climate
Located on the Cape Peninsula, Cape Town has a Mediterranean climate with warm, dry, sunny summers and cold, wet winters. Winters occur between June and August and are influenced by a series of cold fronts that cross the peninsula from the Atlantic Ocean. They are characterised by heavy rain, particularly on the mountain slopes, strong northwesterly winds, and low temperatures. Some snow does fall on the mountain ranges during the winter.
In summer, the weather in Cape Town is warm and dry, but the idyllic sunny weather is often punctuated with strong southeasterly winds. The average summer temperatures in Cape Town range between 61°F (16°C) and 79°F (26°C) and in winter average between 47°F (8.5°C) and 64°F (18°C). Summer temperatures can reach well above 86°F (30°C) and night-time temperatures in winter occasionally drop below freezing, but this is rare.
It is a city with four distinct seasons, each working its particular magic on Cape Town and bringing with it a flood of associations: summer and white sandy beaches; autumn's crisp colours; the ferocity of stormy seas in winter; and spring's show of Cape fynbos flowers. The most popular time to visit is summer and early autumn (December to March).
ENTRY REQUIREMENTS FOR SOUTH AFRICANS
Passport/Visa
Passports should be valid for at least 30 days beyond the period of intended stay. An onward or return ticket is required, as is evidence of sufficient funds. Note that visitors to South Africa must have at least one blank (unstamped) visa page in their passport, each time entry is sought; this page is in addition to the endorsement/amendment pages at the back of the passport. However, nationals of countries that require a visa before travelling to South Africa, must have two blank pages in their passport - one for issuing a visa prior to departure and one for stamping at the port of entry when entering South Africa.
Immigration officials often apply different rules to those stated by travel agents and official sources. The South African Immigration Authorities do not accept loose leaf temporary travel documents. Note that South Africa's immigration laws have changed dramatically over the last two years, and there may be some confusion as to the correct procedure.
Transport
The ocean and the dramatic landmarks of Table Mountain and Lions Head make Cape Town fairly easy to navigate. Most of the hotels are situated along the Atlantic Seaboard.
Private taxi companies such as Uber have a large presence in the city and are known to do trips as far as the Cape Winelands. Public transport, however, is poor and often unsafe, so most visitors hire a car, particularly if planning excursions from the city.
To rent a car, drivers need to be over 18 years old and have a credit card and a full driving license. A young driver surcharge is levied on drivers under the age of 23. The license must have a photo and be in English, otherwise an International Driving Permit is required.
Driving can be a harrowing experience in Cape Town. Lane changes can be confusing, signage is often easy to miss, and the same road can change names several times. It is a beautiful city to drive in, however, and experienced drivers should cope if they have a GPS.
For trips within the city, minibus taxis are cheap and convenient and can be hailed by adventurous travellers anywhere along their route. But the vehicles are often in very bad condition and the driving can be appalling. Passengers should expect to pay around R5 for most journeys within the city, but are cautioned against getting into an empty minibus.
Golden Arrow buses leave from the main bus terminal to destinations around the city. Although timings can be erratic they can be a good option for those on a budget. The MyCiti buses in the city frequent well-marked routes and are a reliable and safe option.
Tourists are advised to avoid the trains, with the exception of the Simon's Town line, which runs through the residential Southern Suburbs, past Muizenberg and along the False Bay coast. Pick pocketing is rife, however, and there have been several attacks on passengers.
Rikkis, or small, open rickshaw type vehicles, are a novel way to explore the city centre and Simon's Town and are usually safe and reliable. Taxis are expensive but are a good option at night for those without a car.
Public transport should not be taken after dark.
Attractions
From museums and historic sites to scenic drives and beaches, Cape Town has plenty to offer visitors in the way of attractions and excursions. The open-top, hop-on hop-off sightseeing buses operate two routes, visiting sights in and around the central city. The routes also go further afield in the suburbs, providing an easy way to see many of the city's top attractions in one day.
The city centre is easy to navigate on foot, with Table Mountain and the city's gentle slope towards the sea providing points of reference and making it difficult to get lost. At the very least, visitors usually include a trip up Table Mountain in the cable car and many make time for an outing to Robben Island, Cape Point, the Winelands, and, of course, any one of the city's many magnificent beaches.
Summertime visitors rarely come to Cape Town without at least one day spent enjoying its Blue Flag-rated beaches, whether lounging with bronze gods in Camps Bay and Clifton, or snorkelling with penguins in Simonstown. There are many active pursuits available in Cape Town as well, including kayaking with whales in the Atlantic Ocean, hiking up Table Mountain or in the Tokai Forest, and paragliding from Signal Hill to Camp's Bay.
For those with a bit more time, there are many interesting museums that offer a glimpse into the apartheid era, such as the District Six Museum. An increasingly popular excursion is to one of the predominantly black townships which usually includes a look at community projects, a visit to a craft market and a drink at a local shebeen (township pub).
---

Bo-Kaap
The Bo-Kaap (old Malay Quarter) was declared an exclusive residential area for the Muslim Cape Malays under the apartheid era's Group Areas Act of 1950, forcing people of other religions and ethnicity to leave. The term 'Cape Malay' was originally used to describe the slaves from Malaysia, Indonesia, and various African countries who were imported to the Cape of Good Hope by the Dutch during the 16th and 17th centuries (rather than just to describe Malaysian slaves). Today, the area is still closely associated with the Muslim community and has a distinct and vibrant character. The houses have been restored and colourfully painted. The steep cobbled streets, mosques, minarets, and blend of Cape Dutch and Edwardian architecture also contribute to making it one of the city's most interesting cultural and historical areas. The Bo-Kaap Museum on Wale Street documents the history of the Cape Malays and is worth a visit for those wanting a more in-depth understanding of the area.

There are also some fun and interesting walking tours available. The Bo-Kaap is a great favourite with photographers and its charm ensures that it is the frequent subject of Cape Town postcards.

Address: Museum: 71 Wale Street, Bo-Kaap, Cape Town; Website: www.iziko.org.za/museums/bo-kaap-museum;
---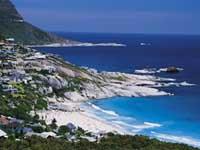 Cape Town Beaches
Cape Town has some truly gorgeous beaches, but the most glamorous are on the Atlantic Ocean, where the water is unbelievably cold. Even the locals tend to keep their swims short. The most popular choices include Camps Bay Beach. Locals and tourists pack its long, wide stretch of silver sand and enjoy the trendy bars and restaurants nearby. Another favourite is Clifton, where four beaches are situated beneath the exclusive houses and apartments set into the cliff. The beaches are named First, Second, Third and Fourth Beach. First Beach is the largest and most popular among families, while Second Beach is preferred by the hip crowd. Third and Fourth Beach are usually frequented by locals. The small suburb of Llandudno lies 15 minutes south of Camps Bay, and is home to one of the most scenic beaches in South Africa. It's popular for sundowners on the rocks or long days in the sun.
Despite its popularity, Llandudno is seldom too crowded. This is partly because there are no bars or restaurants there. The nearest is in Hout Bay, which is another 10 minutes south. Hout Bay's long beach is popular with families and walkers but is not as stunning as its neighbours. False Bay is also blessed with lovely beaches and these tend to be more family-friendly and less trendy. The most popular beach for beginner surfers in Cape Town is Muizenberg, which has plenty of surf schools. The Muizenberg and Fish Hoek beaches of False Bay are also wonderful for swimming, as the water in False Bay is much warmer than on the Atlantic side. For long walks and horse riding, the lovely Noordhoek beach is ideal.
To see Cape Town's penguin colony, tourists should visit the picturesque Boulders Beach in Simonstown, where the loveable birds suntan and swim. Sharks are a problem in Cape Town, particularly in False Bay, and many beaches have shark spotters on duty. Visitors should pay close attention to the flags on the beach, as they signal whether it is safe to swim. A siren will go off to warn swimmers in the water if a shark is spotted nearby.
---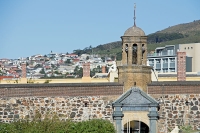 Castle of Good Hope
South Africa's oldest surviving colonial building, the Castle of Good Hope was completed in 1679. It replaced an earlier mud and timber fort built by the first Dutch Governor, Jan van Riebeeck. Situated adjacent to a parking lot and bus station in Buitenkant Street, its walls mark the original boundary of the seashore where the waves washed up against the fortifications. Its outside aspect is somewhat foreboding, but inside are some interesting features and collections that have been restored, offering a good insight into the early days of the Cape, when the castle was the centre of social and economic life. The complex is a pentagonal fortification with a moat and five bastions, each named for one of the titles of the Prince of Orange. The entrance is a good example of 17th-century Dutch Classicism, and a bell, cast in 1679 by Claude Fremy in Amsterdam, still hangs from the original wood beams in the tower above the entrance.

The castle contains a Military Museum depicting the conflicts that arose during the Cape's early settlement, and also houses the William Fehr Collection of decorative arts, including paintings, furniture, and porcelain. Of interest are the dungeons, which bear carvings in the walls by prisoners incarcerated centuries ago. The castle was built for defence, not beauty, and it is a fortress not a palace. Those interested in the history of the Cape will find a visit fascinating.

Address: Buitenkant Street, opposite the Grand Parade; Website: www.castleofgoodhope.co.za; Opening time: Daily 9am to 4pm.; Admission: R30 (adults), R15 (children and students). Other concessions available..
---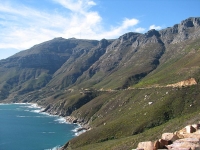 Chapman's Peak
Chapman's Peak Drive is one of the most spectacular coastal roads in South Africa and the world. It links the seaside community of Hout Bay to the Noordhoek Valley along the Atlantic Coast, and offers breath-taking views from along the narrow, winding road blasted into the cliffs. Started in 1915, the six-mile (9km) route took about seven years to complete and was built as a shorter, alternative route between Cape Town central and the South Peninsula. Many visitors use this scenic route to reach Cape Point Nature Reserve, situated at the tip of the Peninsula. But for many Capetonians, it simply comprises a breathtakingly beautiful commute to work. There are a number of gorgeous picnic sites and viewpoints along the route and it is very popular with cyclists. Chapman's Peak Drive is also the ideal vantage point for whale watching, the peak whale season being mid-August to mid-November. Hiking up Chapman's Peak and through Silvermine Nature Reserve and the Cape Peninsula National Park offers spectacular views over the South Peninsula.

With sheer cliffs below, soaring mountains above, and the ocean stretching to the horizon, this dramatic stretch of road is a must-see for tourists in Cape Town.

Website: www.chapmanspeakdrive.co.za; Opening time: Open 24 hours; the road closes occasionally due to heavy rainfall, or rockfalls; Admission: Chapman's Peak Drive is operated as a toll-road. Light motor vehicles cost about ZAR 45..
---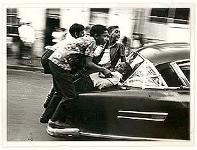 District Six Museum
Until the 1960s, District Six was a vibrant district of Cape Town located close to the city centre and the harbour. The community was originally established as a mix of freed slaves, merchants, artisans and immigrants, and developed a unique multiracial character. In 1966, the government declared District Six a 'whites only' area under the Group Areas Act and over 60,000 residents were forcibly moved to the outlying Cape Flats, a barren area several kilometres away, while most of their homes were flattened by bulldozers. Communities and families were uprooted and torn apart, and this moving museum serves to safeguard the memories and the spirit that was District Six. The venue was originally established as a place where ex-residents could meet and support one another, but is now a fascinating little museum. It houses an impressive collection of old materials, including photographs and relics such as street signs, many of which were donated by former residents.

The museum also offers a guided tour of the area led by an ex-resident. It is a poignant way to learn about District Six as it used to be. These tours must be booked in advance via the official website listed below. It is also possible to wander into the museum off the street and take a self-guided tour.

Address: 25A Buitenkant Street; Website: www.districtsix.co.za; Telephone: 021 466 7200; Opening time: 9am to 4pm Monday to Saturday. Sundays by appointment only.; Admission: R30 (adults), R5 (children)..
---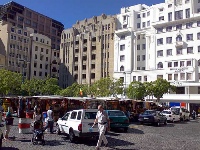 Greenmarket Square
Situated near the main train station in the Central Business District, Greenmarket Square is the perfect spot to observe South Africa's diverse population in all its hues and voices. Once the scene of slave markets, it now accommodates one of the city's most vibrant flea markets, where clothing, jewellery, trinkets, and souvenirs are on sale most days. Tourists and business people rub shoulders in the many sidewalk cafés that surround the busy cobbled square. Visitors should be prepared to haggle for the best prices at the market, and should be aware that touts are prevalent. Rain doesn't generally deter vendors, with most covering their stalls with tarpaulins in bad weather. Stalls generally start clearing up for the day in the late afternoon, though seldom before 3pm. The market does not operate on Sundays. There are many other great attractions in the area, including several art galleries and museums. For instance, the Old Town House lies on the west side of Greenmarket Square. Dating from the mid -18th century, it is a wonderful example of Cape Dutch architecture and houses the Michaelis collection of Dutch and Flemish landscape paintings.
---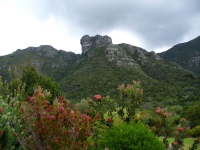 Kirstenbosch Botanical Gardens
The magnificent Kirstenbosch National Botanical Gardens lie just south of the city centre and cover a huge expanse of the rugged southwestern slopes of the Table Mountain Range. Kirstenbosch was bequeathed to the nation by mining magnate Cecil Rhodes in 1895, and today contains a nursery, a research unit, a botanical library and more than 22,000 plants. Numerous paths meander through the gardens, including a Braille route for the blind. Nature lovers should note that the walks are full of lush shrubs and fynbos, the Cape's indigenous floral heritage. The gardens are indeed a natural wonderland, where visitors will find lots of space for picnics. Several incredible hikes can be started from the gardens, including the formidable Skeleton Gorge, and Nursery Ravine, which wind steeply up the mountain and generally take between four and six hours. If these difficult hikes sound a little frightening, some far gentler and shorter trails wind through the gardens. Visitors will find a tea room, two restaurants, and a coffee bar on site.

In summertime, the delightful setting becomes the venue for Sunday evening open-air concerts, when picnickers relax on the lawns, sipping wine, and enjoying the sunset entertainment. There are also outdoor movie screenings in summer.

Address: Rhodes Drive, Newlands; Website: www.sanbi.org/gardens/kirstenbosch; Opening time: Daily 8am to 6pm (April to August); 8am to 7pm (September to March); Conservatory 9am to 5pm; Admission: R60 (adults), R15 (children 6-18). Concessions available. Concert fees are applicable on Sunday afternoons during the Summer Sunset Concert series.
---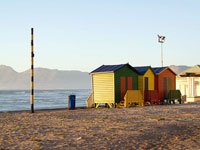 Muizenberg
A historical beach-side suburb on the False Bay coast, Muizenberg is popular with families for its long beach, warm water (by Cape Town standards), beautiful views, and activities such as mini-golf and waterslides. The beach is famous for its row of colourful changing houses and is a photo favourite from the mountain road far above. Muizenberg beach has also long been the best place in Cape Town for beginner surfers to learn and enjoy the waves. Its break is far less daunting and competitive than Cape Town's other surf spots. Several popular surf schools have been established at Surfers Corner in Muizenberg, accompanied by a few fun cafés and restaurants. False Bay is also known for its Great White Shark population, but a shark watch service is in operation to give warning to bathers and surfers. Visitors should take note of the flag and siren system which is clearly explained on signposts.

A scenic walkway below the railway line links Muizenberg to the next seaside village of St James and its lovely tidal pool. The delightful fishing village of Kalk Bay is a few minutes' drive away, with its protected harbour and its main street lined with fascinating antique and art shops, as well as coffee shops, eateries and bars.

Website: www.muizenberg.info; Transport: The train line between Cape Town's centre and Simonstown runs through Muizenberg.;
---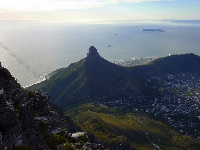 Robben Island
Robben Island is seven miles (11km) from Cape Town, and is easily seen from the shore. For nearly 400 years, this tiny rocky island was utilised as a place of banishment, exile, isolation, and imprisonment for numerous categories of people ostracised by society, ranging from political protesters to lepers. During the years of Apartheid, Robben Island became synonymous with institutional brutality as numerous freedom fighters, including the island's most famous resident, Nelson Mandela, were imprisoned here for more than a quarter of a century. Robben Island is now a museum, symbolising the liberation and triumph of the human spirit. Regular island tours are conducted and last for around three and a half hours. The tours are guided by former prisoners and include a visit to the maximum-security prison on the island, where an estimated 3,000 freedom fighters were incarcerated between 1962 and 1991. The island is also interesting in other ways. For instance, it is a magnet for shipwrecks, with at least 68 recorded cases across its rocky coastline.

The boat trip across the bay can be really fun in itself, and some wonderful views of the city and Table Mountain are gained from the ferry ride and the island itself.

Website: www.robben-island.org.za; Transport: Boat from the Nelson Mandela Robben Island Gateway in the clock tower precinct at the Victoria and Alfred Waterfront in Cape Town. Book in advance; Opening time: Boats leave roughly every two hours between 9am and 3pm (weather dependent).; Admission: Tours are R300 (adults), R160 (children under 18), which includes the return boat trip across Table Bay..
---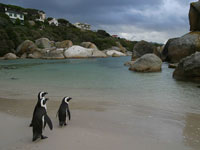 Simonstown and Boulders Beach
Simonstown is South Africa's principal naval base and lies about 25 miles (40km) from the city centre. The quaint suburb was built around a naval dockyard, and visitors will enjoy its well-preserved Victorian buildings, museums, sidewalk cafés, and local heroes. One such hero was a dog called 'Just Nuisance', who joined the British navy, becoming their mascot, when Simonstown was a British base. A statue of the beloved Great Dane can still be seen on the beachfront. A short distance from the town is Boulders Beach, famous for its protected colony of African Penguins. People watch the animals while on the beach as well as from viewing platforms. The penguins are remarkably tame, meaning visitors can get very close to take photographs, even though they shouldn't try to touch the animals. The loveable birds continue to swim and frolic beneath the waves, totally unperturbed. The beach is truly beautiful at Boulders, with turquoise water and, as the name suggests, picturesque rock formations. It's worth a visit in any season just to see the penguins, and kids will love it.
---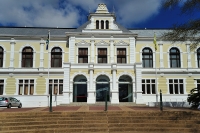 South African Museum and Planetarium
The imposing South African Museum is dedicated to natural history and the human sciences, and contains a huge variety of fascinating exhibits. Among other things, visitors will encounter entire chunks of caves bearing rock art, and traditional arts and crafts from several African tribes. Astoundingly, the museum houses more than one and a half million specimens of scientific importance, including fossils that are almost 700 million years old. The vastness of the collection means that for every object on display, thousands more are kept in storage. The natural history exhibits are full of mounted mammals, dioramas of prehistoric reptiles, and a collection of whale skeletons, with haunting whale song echoing in the background. Established in 1825, the South African Museum is still very old-fashioned in some ways. Nevertheless, it is well worth a visit for its impressive collection. Alongside the museum is the Planetarium, which has a changing programme of thematic shows involving the southern constellations. Booking ahead is necessary for Planetarium shows.

These two attractions are based in the lovely Company Gardens of Cape Town, which are also worth exploring.

Address: 25 Queen Victoria Street, Gardens; Website: www.iziko.org.za; Opening time: Daily 10am to 5pm (museum).;
---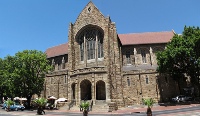 St George's Cathedral
Founded in 1901 and situated on Wale Street, Cape Town's Victorian Gothic style Anglican Cathedral is historically significant for hosting the enthronement of South Africa's first black archbishop, Nobel Peace Prize winner Desmond Tutu. The Cathedral is unique in that it became a political powerhouse in the struggle against Apartheid. Known as 'the people's cathedral', it began openly welcoming people of all races in the 1950s. This was a brave stand in the racially segregated society of the time. In subsequent years, the cathedral became the venue for many protest gatherings and vigils and, on occasion, the building was surrounded by police, water cannons, and barbed wire. Victims of forced removals were even accommodated in the cathedral at times. As far as architectural merit goes, the cathedral does feature some fine Gabriel Loire windows, including a magnificent Rose Window above the south transept. It is an imposing church, well integrated into the community and well cared for, and the profoundly inspirational legacy of Desmond Tutu is palpable.

Address: Wale Street;
---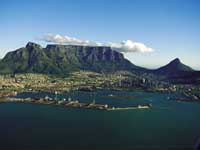 Table Mountain
Cape Town's most popular tourist attraction is also its most famous physical feature. The flat-topped mountain stands as a sentinel over the city, and has been proclaimed a nature reserve, thereby protecting its diverse floral species. Some are unique to its slopes. The views of the city and coastline from the top of the mountain are quite spectacular in all directions. A Swiss-built rotating cable car carries visitors smoothly up the mountain and back. The mountaintop is equipped with a restaurant and small gift shop, as well as numerous pathways and vantage points. It is possible to climb the mountain via different routes, but inexperienced hikers should take care because Cape Town is prone to sudden weather changes. The walk up can take a few hours, depending on the route and level of fitness. Route maps can be bought at the cable-car station. It is always best to check the website or call the weatherline to see if the cable car is in operation. Hikers should travel in groups, as there have been reports of robberies on the trails.

Tickets for the cable car can be booked online via the official website. They are marginally cheaper online and allow travellers to skip the sometimes long queues at the ticket kiosk. Ascending Table Mountain is an absolute must for visitors to Cape Town.

Address: Tafelberg Road; Website: www.tablemountain.net; Transport: Bus to Kloof Nek from Adderley Street and a 1.5km walk up the hill; minibus taxi from the Parade; Riki taxi; or as part of the Cape Town Hop-On Hop-Off bus tour; Opening time: Cable car operates daily (weather permitting) every 10-15 minutes from 8am to 8pm (November); 8am to 10pm (December to January); 8am to 8:30pm (February); 8am to 7:30pm (March); 8am to 6:30pm (April); 8:30am to 6pm (May to mid-September); 8:30am to 7pm (16 September to October). Closed for annual maintenance for about three weeks in July and August; Admission: Cable car: R225 return, R135 one way (adults); R125 return, R65 one way (children under 18). Other concessions available..
---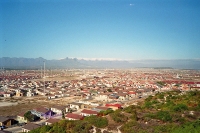 Township Tours
The N2 highway that connects Cape Town International Airport to the city is lined with townships, which consist of a mixture of shacks and solid buildings. During the days of apartheid, people of colour were not allowed to live in the white suburbs and were relocated to areas away from the city. These tours allow visitors to experience how the majority of Capetonians still live. Guides, often residents, take visitors around to meet the people, see community projects, have a drink in a shebeen (township pub) and shop for local crafts. Each township has its own colourful character, and despite their difficult living conditions, residents are generally friendly and hospitable. Townships were once no-go areas for many people but, today, visits are becoming popular among tourists to Cape Town. Visitors are advised not to visit the townships alone as crime is still rife and some areas are best avoided completely. There are many tour companies that offer wonderful trips, including transport to and from the township areas.

There is the possibility that these tours can become unpleasantly voyeuristic in the wrong hands. Tourists should remember that they are exploring real communities where people live and should treat the locals with respect.

Telephone: Cape Town Tourism Visitor Information Centre: 021 487 6800, or Sivuyile Tourism Centre: 021 637 8449;
---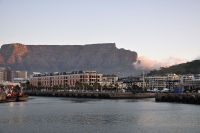 Victoria & Alfred (V&A) Waterfront
This working harbour, historical site, and shopping development has become one of Cape Town's most visited tourist attractions. The Waterfront offers everything from shopping malls and crafts markets, to live music and a variety of festivals throughout the year. It's also home to more than 70 eateries, ranging from pubs and fast food outlets to five star restaurants. Those who fall in love with the Waterfront will be glad to know that there are several luxury hotels in the area. What's more, travellers can stroll down to the harbour to gaze upon the numerous boats and ships upon the waves. Those who want to experience the thrill of sailing out of the harbour into the open ocean can choose from a variety of boat trips and harbour cruises. Helicopter charters leave from the waterfront as well. These include sunset booze cruises, whale-watching trips, and even a pirate galley that throws themed outings. The Two Oceans Aquarium is an impressive and celebrated institution and houses an impressive array of life from the oceans surrounding the Cape Coast.

The aquarium is a must for those travelling in Cape Town with kids, but adults will also find themselves entertained. The V & A Waterfront is situated in a beautiful and central location, all the while under the watchful guard of the iconic Table Mountain.

Website: www.waterfront.co.za; Transport: MyCiti buses service the V & A Waterfront.;
Kids Attractions
With dramatic mountains, Blue Flag beaches, and the great outdoors on its doorstep, there is no shortage of things for children to see and do in Cape Town.
Active families will enjoy the numerous hikes on Table Mountain, as well as riding the cable car. The surrounding areas, such as Tokai, False Bay, and Silvermine and Cape Point provide some excellent walking paths too. Cape Town strives to be a bicycle-friendly city, meaning there are plenty of bike trails both on and off the mountains.
Visitors can also head to one of Cape Town's picture-perfect beaches to enjoy a spot of sunshine, or picnic under the shade of a tree in the world-renowned Kirstenbosch Botanical Gardens, where there is plenty of space for kids to run around. Kids will enjoy Cape Town's open-top sightseeing buses too, as they're a great way to see the city's top attractions.
On days when outdoor activities are not an option, travellers can head to the Victoria & Alfred Waterfront, where craft markets, boat rides, and restaurants will keep the little ones entertained. The Two Oceans Aquarium is also located there and provides a fascinating and educational experience for children of all ages. A trip to Ratanga Junction theme park will not fail to delight kids of all ages, and attractions like World of Birds are worth visiting too.
When the sun sets on the Mother City, there are plenty of great restaurants where kids are welcome, such as the family-friendly Spur, which offers indoor playgrounds, colouring books and balloons.
---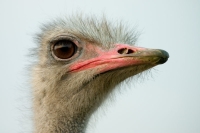 Cape Town Ostrich Ranch
For fun encounters with one of South Africa's oddest and most unique animals, the Cape Town Ostrich Ranch is a great bet. The ranch is a good family attraction, but having kids along is not necessary to enjoy the experience. Although it is possible to explore the ranch independently, most people choose to join one of the organised tours, which are conducted in English, Afrikaans, German, and French. Tours in other languages may be possible if organised in advance. Tours take about 40 minutes and include the museum, the leather factory, and encounters with the various ostriches and other animals on the farm. The highlight for many visitors is the chance to sit astride an ostrich for a photo opportunity with the iconic Table Mountain in the distance. Those wanting to feed the ostriches will be able to buy feed at the ranch. The restaurant serves up a variety of snacks and meals in a lovely Cape Dutch garden setting, while the shop sells all sorts of ostrich products. A playground and sand pit provide extra entertainment for kids. Children will also love the scratch patch, where they can select a variety of sparkly gemstones.

Address: Van Schoorsdrif Road, Philadelphia, Cape Town; Website: www.ostrichranch.co.za;
---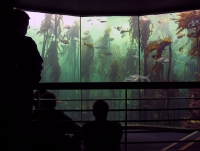 Two Oceans Aquarium
The Cape sits at the meeting place of the Atlantic and Indian Oceans, and over 3,000 sea animals from both oceans are showcased in the aquarium. They highlight the diversity of marine life found in the waters around Cape Town. The Two Oceans Aquarium is one of the city's top attractions and visitors of all ages will be interested in the variety of exhibits. They include the Predator Exhibit, which features large sharks and rays, and the mesmerising Kelp Forest Exhibit. Animals such as seals, penguins and turtles, and thousands of different fish are on display too. It is also possible embark on dives in specific tanks. Advanced booking is required, divers must present dive qualifications, and the privilege does carry an additional charge. The Shoreline Cafe at the Aquarium boasts lovely views of Table Mountain and the harbour, and has a children's play area, making it an ideal place to have refreshments. However, visitors are spoilt for choice because the aquarium is located at the famous V & A Waterfront, which is crammed full of great restaurants.

It is special to be able to stroll along the harbour after visiting the aquarium, and boat trips out into the open ocean can be arranged from there.

Address: V&A Waterfront; Website: www.aquarium.co.za; Opening time: Daily 9:30am to 6pm; Admission: R160 (adults), R115 (children 14-17), R75 (children 4-13). Tickets valid for the day..
Excursions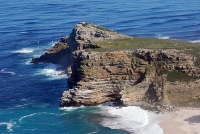 Cape Point
Most Cape Town visitors are keen to make the short, 40 mile (65km) daytrip from the city centre to the Cape of Good Hope Nature Reserve. The land at first appears bleak, but visitors will soon discover a region rich in floral diversity. They will also stand atop the towering promontory at the most southerly point of the Cape Peninsula. Those who wish to venture to the most southerly point of Africa will have to journey further to Cape Agulhas. Visitors can reach the viewpoint and lighthouse via a funicular, and watch thundering waves crash at the base of the cliffs below. Bird lovers and botany enthusiasts will enjoy exploring the reserve itself. There are a number of beautiful walking trails, including the shipwreck trail, which takes visitors to a few of the 26 recorded shipwrecks around Cape Point. There are also some great beaches and dive sites. The restaurant at Cape Point has a terrace offering spectacular views.

Website: www.capepoint.co.za;
---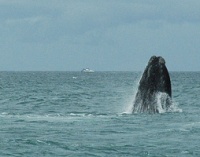 Hermanus
Locals and international tourists alike travel south of Cape Town to Hermanus. The charming seaside town is about a two-hour drive outside the Mother City, and is known for its whale watching, as Southern Right Whales migrate through the area to nearby Walker Bay. Visitors are almost guaranteed a sighting of these gentle giants from the steep cliffs of Hermanus between September and October, and the Two Oceans Whale Festival draws big crowds over this period. There are also opportunities to view other wildlife, including dolphins, seals, penguins, and Great White Sharks. The town itself offers many other activities. These include browsing shops and restaurants in the quaint downtown area to venturing further afield to wine farms and beaches and neighbouring towns like Stanford, Gansbaai, and Caledon. Active pursuits include horseback riding, quad biking, hiking, sandboarding, mountain biking, kayaking, and zip lining. Strolling along the cliff walk in Hermanus is a must for visitors, even if there are no whales in the bay. Book fanatics should seek out the wonderful second-hand book store in Hermanus called Hemingways.

Website: www.hermanus.co.za;
---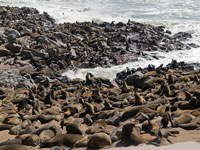 Seal Island
Seal Island visitors can glimpse of these wonderful animals at play and at rest. Although several tiny islands off the coast are unofficially part of Seal Island, the most well-known is Duiker Island. Located a small distance out from Hout Bay, boats regularly leave the docks and take passengers outside the harbour and into the ocean. From here, they can enjoy sweeping views of Hout Bay, Noordhoek, Kommetjie, and the famous Chapman's Peak. The boat stops just below the Hout Bay Sentinal, where hundreds of Cape fur seals bask on the small island in the sun. The sight is magical, if a bit pungent. Many of the boat tours use glass-bottomed vessels that allow sightings of the seals zipping about beneath the water. The charming naval harbour of Simon's Town has a colony too, with tours also leaving its shores. The great white sharks that frequent the False Bay region often lurk hungrily around the islands. Sightings of these awesome apex predators are possible, albeit rare. There are excursions that specialise in spotting the act of breaching, whereby the sharks propel themselves out of the water on catching their prey.

Address: Hout Bay Harbour or Simon's Town Harbour.;
Events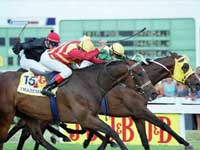 The Sun Met
26 January 2020

Formerly known as the J&B Met, the Sun Met is the premier horseracing event in South Africa, with over R1.5-million in prize money on the table. It's also one of the most prestigious and anticipated events on Cape Town's social calendar, where entertainment, sophistication and glamorous fashion come together.

The Official After Party is a highly rated post-race event that continues the festivities well into the early hours. The Met attracts many of South Africa's biggest celebrities and socialites, who compete in the fashion stakes. Like many horse racing events, creative couture and glamorous hats are the order of the day.

Attendees usually get drawn into the excitement of the races, even if they're neophytes. A staggering average of 50,000 people attend the event annually, interpreting the year's fashion theme however they like.

Placing bets is very simple and easy and attendees can bet as little or as much as they want. There are numerous fancy pavilions on the grounds for VIP guests.

Website: www.sunmet.co.za;
---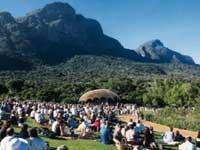 Kirstenbosch Summer Sunset Concerts
1 January 1970

The Kirstenbosch Summer Sunset Concerts are idyllic experiences set beneath the gorgeous expanse of the mountains. With a picnic and a glass of wine, audiences can listen to a mixed selection of classical and contemporary music.

The gardens themselves provide one of the most spectacular concert venues in South Africa, with the stage framed by the backdrop of Table Mountain and sprawling flowers of the Kirstenbosch National Botanical Garden.

In fact, National Geographic voted this exquisite floral wonderland as one of the greatest places in the world for a picnic. One can only imagine the atmosphere generated when international artists like Michael Buble, The Lumineers, and Paolo Nutini take to the stage.

For a full programme of who is performing, music fans should check out the official website. Ticket prices range depending on the artist. As there are no assigned seats, it is a good idea to arrive early to set up a good spot near the stage and enjoy a stroll around the beautiful gardens before the show begins.

Website: www.sanbi.org/gardens/kirstenbosch/summer-concerts;
---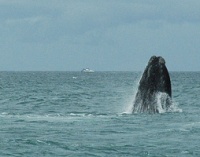 Hermanus Whale Festival
1 January 1970

The annual Hermanus Whale Festival is an enviro-arts festival, celebrating local arts and crafts, the southern right whale, and the environment in equal measure. The event is immensely popular, now attracting about 100,000 visitors.

The festival offers arts and crafts, theatre, live music, a half marathon, and surf festival in addition to some of the best shore-based whale-watching opportunities in the world. Hermanus boasts the world's only traditional Whale Crier, who alerts visitors to whale sightings with a kelp horn every day during whale season.

Every year between July and September, the Southern Right Whales travel thousands of miles to the southern coast of South Africa to mate and calve in the bays. Hermanus is frequented by these majestic animals and the steep cliffs and numerous vantage points looking out over the bay make it the ideal spot to go whale watching in the Cape.

In fact, it is often lauded as the best land-based whale watching destination in the world. Hermanus is a charming coastal town even without this wonderful natural spectacle, with plenty of little cafés and restaurants, quaint shops, a very picturesque setting, and a friendly and artistic atmosphere.

Website: hermanuswhalefestival.co.za;
---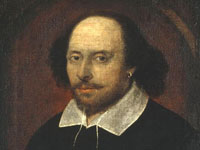 Shakespeare at Maynardville Open-Air Theatre
1 January 1970
Inspired by the annual productions in London's Regent Park, Shakespeare is performed every summer at the open-air theatre in Wynberg. It is generally performed with a local, contemporary twist to add to the entertainment.
Some very talented South African actors and directors have been showcased at Maynardville and the plays are extremely varied despite the fact that they are all Shakespearean. Recently, ballet has been added to the Maynardville itinerary, with world-class ballet companies performing.
Every season there are at least two or three productions so there is some choice, and they often try to ensure that there is something more traditional and something contemporary from which to choose. On warm summer evenings, many theatre-goers begin the evening by picnicking in the park before the show begins.
There is also often a small funfair and a food market with numerous stalls selling different culinary treats, just a little way away from the actual theatre area. Theatre lovers should check the official website for details on what is showing.
---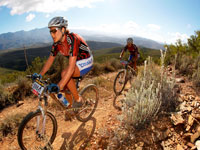 Absa Cape Epic
1 January 1970

The Absa Cape Epic has established itself as a prestigious international sporting event, attracting a competitive field of riders eager to compete against the best or simply to finish the gruelling eight-day off-road race. The event has become the largest full service mountain bike race in the world, and is the most televised mountain bike race ever.

The route is changed every year, but always winds through gruelling, but spectacular surroundings. The race covers 559 miles (900km) of unspoilt nature, with about 52,493 feet (16,000m) of climbing over some of the most magnificent passes in South Africa.

Participants and spectators can enjoy wine tasting, fine dining and live entertainment in the afternoon. Special activities such as magicians, balloon artists and jumping castles are laid on for the children.

Website: www.cape-epic.com;
---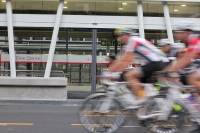 Cape Argus Pick n Pay Cycle Tour
14 March 2020

The Argus is the largest timed sporting event on earth, attracting more than 35,000 cyclists from around the world. The spectacle is watched by thousands who line the 67-mile (108km) route, which follows some of the Cape's most spectacular coastal scenery. The race is enjoyed by serious cyclists and social riders alike and is almost a rite of passage for young, athletic Capetonians.

Established in 1978 to raise awareness about the lack of bike trails in South Africa, the event has grown in popularity ever since. The route takes riders along the False Bay Coast, including the famously scenic Chapman's Peak pass, past the entrance to the Cape of Good Hope Nature Reserve, along the Atlantic coast, over Suikerbossie Hill, and on to the Cape Town Stadium in Green Point near the city centre, in what must be the most staggeringly beautiful cycling race in the world. There are numerous refreshment stations and on the day a very festive atmosphere pervades the route, especially as many of the coastal suburbs are somewhat cut off by the race due to all the road closures.

Website: www.capetowncycletour.com;
---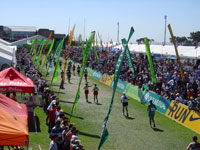 Two Oceans Marathon
1 January 1970

Boasting some of the most spectacular scenery of any road running event on earth, the Two Oceans Marathon has become the second most famous ultra-marathon (34.8 miles/56km) in South Africa, after the Comrades Marathon. Runners race over and around the mountains of Cape Town every Easter Saturday in a race that is as internationally renowned for its scenic beauty, as the gruelling nature of the route.

The race starts in Newlands and follows a vaguely circular route through False Bay (Muizenberg, Fish Hoek, Chapman's Peak) and Constantia Nek, and eventually finishes on the rugby fields at the lovely University of Cape Town campus.

Apart from the ultra-marathon, there is a half marathon (13 miles/21km), a trail run through the forests above the University of Cape Town, several fun runs ideal for families, and an International Friendship Run designed to showcase Cape Town's famous landmarks for international entrants. The fun runs include a Nappy Dash, for children under three, a Toddler's Trot, for kids between four and six, and several other short races for people of any age.

Website: www.twooceansmarathon.org.za;
---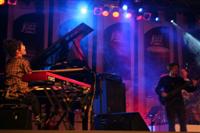 Cape Town International Jazz Festival
1 January 1970

Ranked as one of the best jazz festivals in the world, the Cape Town International Jazz Festival (CTIJF) is a must for jazz fanatics visiting the Mother City. Hosting about 40 African and international artists, the CTIJF is an awe inspiring musical jam of jazz and its popular music relatives like soul, funk, kwaito, blues, and more. The dynamic music event should not be missed as it's hosted the likes of Cesaria Evora, Herbie Hancock, Youssou N'dour, India Arie, Randy Crawford, George Duke, Al Di Meola, Archie Shepp, Erykah Badu, Andreas Vollenweider, and Angie Stone.

Even those who don't consider themselves jazz lovers will find the big live performances accessible and exciting. There are also workshops and classes to attend during the festival, revolving naturally around jazz music but also a number of interesting artistic subjects, like photography and music journalism.

Website: www.capetownjazzfest.com;
Restaurants
Foodies will appreciate the quality and variety of restaurants in Cape Town. Regarding menus, they will find a wide variety of international fare, along with many restaurants that offer local Cape Malay dishes and traditional African cuisine. Seafood is extremely popular too. Fine diners and families with young children will find they are equally well-catered for, and vegetarians and vegans will also feel at home.
Camps Bay and the Waterfront have a wide variety of restaurants, but many of the better ones are outside these tourist hotspots. The town of Franschhoek is just 40 minutes outside Cape Town and is considered the gourmet capital of South Africa. Many of the wine farms in Constantia and around Stellenbosch have fantastic establishments for long lunching over a bottle of the superb local wine.
Visitors to Cape Town during the winter months should take advantage of 'winter menus' offered by most restaurants. These are astoundingly good value deals, often packaged as a tasting menu of five courses or more. Restaurants in Cape Town usually add a 10 to 15 percent service charge to tables of six or more. Otherwise, waiters expect a tip of 10 to 15 percent for good service.
$$$$$ |

French

Constantia Uitsig

Located in wine country and against the backdrop of the Constantiaberg Mountain, Constantia Uitsig has been a huge success story since day one. The menu is Italian-French, though Chef Clayton Bell continues to create food with broader influences than his original Provencale-Tuscan mix. Bookings are essential.

Address: Constantia Uitsig Farm, Spaanschemat River Road, Constantia | Telephone: 021 794 6500 | Website: uitsig.co.za

$$$$$ |

Seafood

Miller's Thumb

Miller's Thumb is Jane and Solly Solomon's refreshingly casual seafood establishment. Set in uptown Cape Town, it's ever-changing chalkboard menu offers customers a good chance of discovering something new, though it tends to include familiar options as well. Cajun and Creole dishes are the order of the day, as is Yaki Soba, an award-winning Japanese dish with cashes, chickens and prawns. Thankfully, it's a staple. There's generally a pasta dish or two, complemented by an array of interesting sauces and a selection of good wines.

Address: 10b Kloofnek Road, Tamboerskloof | Telephone: 021 424 3838 | Website: www.millersthumb.co.za

$$$$$ |

Seafood

The Codfather

Situated just behind Camps Bay's main strip, the Codfather offers a unique presentation of fine fish. There is no menu at this low-key restaurant. Patrons make their choice after a personal discourse with their waiter on the daily specials. It is then weighed, prepared to the highest standard, and served to their table. Staff are all first class and provide a service of the highest order. There is also a sushi bar. The restaurant is open daily for lunch and dinner.

Address: 37 The Drive, Camps Bay | Telephone: 021 438 0782 | Website: www.codfather.co.za

$$$$$ |

Modern Eclectic

Beluga

Beluga is a stylish and sophisticated eatery located in the Foundry, a 100-year-old redbrick building that once housed one of the city's oldest metal works. It now has a modern interior design as well as an office centre, integrating into what has become Cape Town's film and modelling district. The restaurant offers the best of a wide range of cuisines. However, there are plenty of robust flavours, interesting ingredients, and generous portions. The cocktail bar serves great drinks, perfectly complemented by its famous sushi menu. Tables spill out onto an enclosed courtyard, serving light meals and coffees from early until late.

Address: The Foundry, Prestwich Street, Green Point | Telephone: 021 418 2948 | Website: www.beluga.co.za

$$$$$ |

American

Royale Eatery

Royale is the gourmet burger joint of choice in Cape Town. It's not uncommon to see scruffy-jeaned skaters at one table and trendy executives at another. Patrons can choose beef, chicken, ostrich or veggie patties, and can chop and change toppings. Regarding sides, they can go for regular fries, sweet potato fries, potato wedges or delicious salads.

Aside from offerings like 'The Miss Piggy' and 'The Fat Bastard' (double everything), the restaurant serves a variety of pizzas and milkshakes. Royale also boasts an upstairs bar and live-music lounge known as the Waiting Room, and a third floor reserved for private functions and sundowners.

Address: 273 Long Street | Telephone: 021 422 4536 | Website: www.royaleeatery.com

$$$$$ |

Modern Eclectic

Pigalle

Regarded as one of Cape Town's most stylish dinner-dance venues, Pigalle is a vast, split-level restaurant divided into intimate dining areas, each boasting a view of the dance floor and band. The lavish furnishings, elegant tables, and background music create the perfect atmosphere in which to enjoy sumptuous offerings from the set menus, or from the à la carte menu. Black mussels provide a delicious start to the dining experience. From there, patrons could move on to the ostrich fillet with mushroom and peppercorn sauce, the fillet medallions, or the Pigalle Platter (prawns and langoustines in lemon butter). Couples could round off their meals by sharing the crème brûlée or baked cheesecake. The restaurant is open Monday to Saturday for lunch and dinner.

Address: 57A Somerset Rd, Greenpoint | Telephone: 021 421 4848 | Website: www.pigallerestaurants.co.za

$$$$$ |

Cafe

Café Mozart

Something of a Cape Town institution, Café Mozart has been attracting locals and foreigners for over thirty years. Serving some of the best coffee in town, Café Mozart is a great breakfast stop, with tables spilling out onto a shaded pedestrianised walkway, where buskers amuse passers-by with some lively tunes. With superb fruit juices, a mouth-watering selection of sandwiches made on freshly baked bread, and an attractive daily menu created at the whim of chef and proprietor Tom Kelley, there is something for everyone. Tea lovers should sample the restaurant's variety of loose-leaf teas, all of which are served in elegant silver teapots and quirky crockery. Café Mozart is open Monday to Saturday for breakfast and lunch.

Address: 37 Church Street | Telephone: 021 422 1765

$$$$$ |

International

Tobago's Restaurant, Bar and Terrace

With its prime location near the Cape Town Stadium, Tobago's restaurant in the Radisson Blu Hotel is a celebrated venue for visitors to enjoy a long luxurious lunch or dinner. Diners are offered a wonderful selection of meals from the restaurant's world-class menu, made from locally sourced, fresh ingredients. They can also choose from a buffet, which is best enjoyed in the stylish dining area or outside on the beautiful waterfront terrace. Tobago's is a good option for those seeking fine dining before or after a sport event or concert at the Cape Town Stadium.

Address: Beach Road, Granger Bay | Telephone: 021 441 3000 | Website: www.radissonblu.com/hotel-capetown/dining/restaurant

$$$$$ |

Fusion

Myoga

Myoga is a trendy and upmarket Cape Town establishment that serves the finest in contemporary fusion cuisine. With a friendly and laidback atmosphere, its speciality dishes include the caramelised pear and walnut gorgonzola. Another favourite is the seared ostrich with mango and fynbos honey, a unique dish which cannot be found anywhere else in the world. The kitchen itself is set in the middle of the restaurant, allowing patrons to see the staff's craft. Myoga is open Monday to Saturday for lunch and dinner. Reservations are essential.

Address: Colinton Road, Newlands | Telephone: 021 657 4545 | Website: www.myoga.co.za